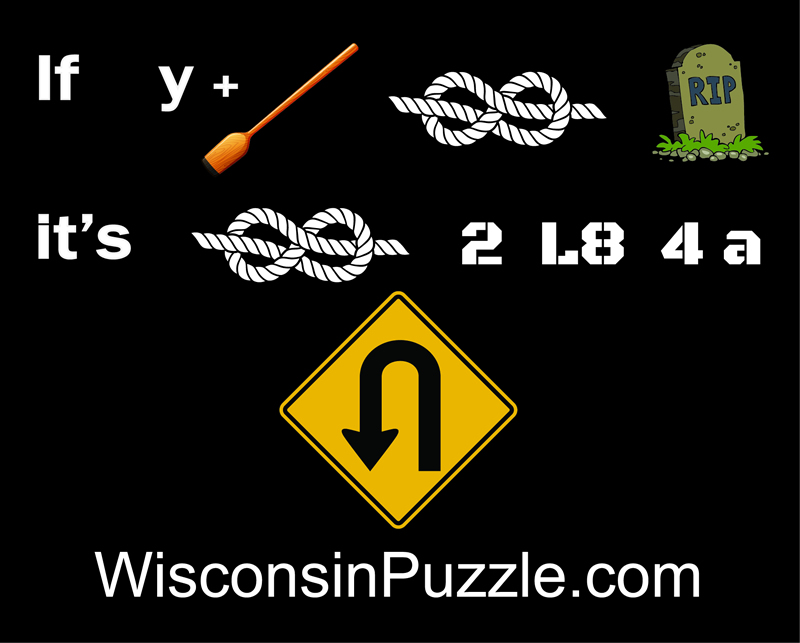 Before explaining the puzzle, here's a link to the ultimate super hero comic, also available in video.
The Solution and Explanation.
"If you're not dead, it's not too late for a U-turn."
If you would like this puzzle printed on clothing, visit the Zazzle store.
One of the definitions of a puzzle is, "Something that baffles or confuses." Although the puzzle may be easy to solve, the subject it is referring to is often hard to understand, and many would rather not spend the time figuring it out. The puzzle is referring to a verse in the Bible.
"For I have no pleasure in the death of anyone, declares the Lord GOD; so turn, and live."
–Ezekiel 18:32
Turn is what takes place when a person realizes they are on the proverbial wrong road, and they want to get on the right one, at any cost. Another word for this state of mind is repentance, which is explained a bit later.
Live is referring to eternal life, as opposed to eternal death. The Bible calls eternal death, the second death. The second death is explained in the book of Revelation. You don't want to experience the second death.
"And I saw the dead, great and small, standing before the throne, and books were opened. Then another book was opened, which is the book of life. And the dead were judged by what was written in the books, according to what they had done. And the sea gave up the dead who were in it, Death and Hades gave up the dead who were in them, and they were judged, each one of them, according to what they had done. Then Death and Hades were thrown into the lake of fire. This is the second death, the lake of fire. And if anyone's name was not found written in the book of life, he was thrown into the lake of fire."
–Revelation 20:12-15
We were all born going down the wrong road. We have all violated God's laws in various ways. The "Can We Be Good Enough?" section below will prove beyond any doubt this is true. So, let me ask you, what are you going to do about all of your violations of God's commandments? You are going to be held accountable for them unless you choose to accept His one and only remedy. You have until you die to make the right choice. There is only one right choice. After death, there is no second chance, no do-overs, and no grade curving.
Please take the time to check out the following material and learn about the amazing gift God makes available to everyone. What gift is that? The gift of forgiveness through His Son, Jesus Christ. It costs you nothing, and you cannot earn it. God will forgive you the moment you want to get on the right path and believe what Christ did for you.
So, spend some time and understand this puzzle. I invite you to start your research with the following video and links.
The Tetelestai Project

This is an 11 episode series explaining what redemption is all about. Use the password tetelestai
Why is this video series important? It explains why Jesus became a man, why He died, why He rose from the dead, and why you need Him. The redemption story is intricately woven throughout Bible, and this series brings it all together. Each episode is 30 minutes.
If you've been thinking about this subject for a while, it is possible this would help you make the all-important decision to trust Jesus Christ as your Savior.
The card you received refers to a U-turn. To turn means to repent. You cannot have a relationship with God without it. The willingness to turn from sin and to Christ is the turning that must occur to obtain eternal life. The Bible makes this very clear.
It's important to understand that you need God. He made a plan so that you would not be accountable for your sin. Before you can apply His solution, you must believe that you need it.
Reading Scripture is the best way to get to know God. You should start in the book of Matthew and read through Jude. Save the book of Revelation for later. When you're done, start over. If you want to know the truth, and if you'll read the Scriptures without any preconceived ideas, the light will go on for you. It is important to read as a child would. If you have a religious background, try to forget everything you were taught and start fresh. You can start reading your own Bible, or find an online version. This man read as a child, and it helped him. If you don't own a Bible and want one, let us know.
Why and When Should I Get Right with the Lord?
The Bible says to do it now! Why now? When you put it off, for whatever reason, it becomes increasingly more difficult to do it later.
This is an introduction to the Bible. If you have doubts about the Bible, this book may help you
Most people have questions. This site may have the answers you're looking for. GotQuestions.org.
We are a group of Christians who are interested in sharing the great news that sins can be forgiven, a new beginning is available to everyone, and you can start now. Here's how.
A – Accept that you are a sinner. If you're not sure, take this test.
B – Believe that Jesus Christ shed His blood on a Roman cross to take the punishment for your sins, and He rose from the dead to prove He was God.
C – Call (speak to Him) on God to forgive you, admit your guilt, and tell Him that you believe what Jesus did for you.
Please send an email if you've made a decision to follow Jesus Christ, or if you have questions.